Disc Parking
In some car parks you may park free of charge as long as you have a parking disc. Parking discs are available for purchase at most petrol stations and shops and should be placed visibly in the car's windscreen.
There are both digital parking discs and manual parking discs to choose from when you buy a parking disc.Digital parking discs sets the time automatically. For manual parking discs, you need to set the time yourself. If you are expected to use a parking disc when parking, it will be indicated on an additional sign showing the total length of free parking time.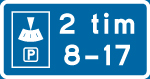 The sign above states that free parking is allowed for up to two hours between 8-17 with parking disc. The rest of the time you may park freely without a parking disc.
Always remember that:
You need to indicate your arrival time and round that off to the nearest following full hour or half hour.
If you arrive before the time limitation indicated on the parking sign, then set the parking disc to the time that the time limitation begins at.
You may not change the vehicle arrival time indicated on the parking disc during a parking session within the time limitation.
The parking disc must always be displayed on the inside of your windscreen and be fully readable from the outside.
Only one parking disc may be used per parking session.
Do you want to know more about different road signs? We have created a list of some of the most common road signs that we use when we check that cars have been parked correctly and properly.